Chocolate of Modica with whole hemp seeds and cane sugar. - 100 gr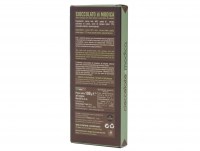 Description
The Chocolate of Modica is the Chocolate composed of cocoa paste in large quantity, and it is made with the whole cocoa seed without extracting cocoa-butter.
The Chocolate of Modica is dark black with brown tints, unrefined, almost raw, with raw sugar granules, which give a particular taste and a brightness as a "marmoreal stone". It is made with low temperature (max 35/40°) to not change its organoleptic features and to can taste particular flavours and scents. Unique of its kind, original and different from the other kinds of chocolate.
A chocolate full of flavonoids, with large nutritional and health-conscious properties. Adding the hemp seed's properties we obtain a product with excellent nutritional qualities!
The variant with whole hemp seeds enhances the qualities of "Chocolate of Modica" with all the properties contained in the hemp and gives it a particularly crunchiness; While the chocolate with shelled hemp seeds gives a particular hazelnut taste.
Made in collaboration with "Antica Dolceria Rizza".